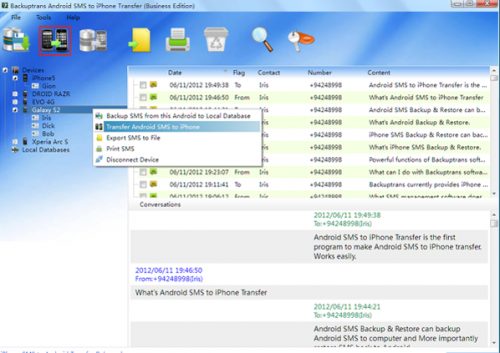 State pensando di passare da uno smartphone Android ad un iPhone 5 e non volete perdere gli sms? Se la risposta è si, allora ecco il programma giusto che fa al caso vostro.
Sto parlando di BACKUPTRANS ANDROID SMS TO IPHONE TRANSFER. Si tratta di un programma gratuito che vi permette facilmente ed in pochi passi di trasferire i vostri sms da un dispositivo Android su iPhone 5, 4S e 4 (iOS 4.2 o successivi).
1) Scaricate ed installate il software (esiste la versione per Windows e per Mac – link a fine articolo);
2) Lanciate il programma e collegate entrambi i dispositivi al pc tramite cavo USB (assicuratevi di aver installato iTunes 10.0 o successivi);
3) Cliccate sul nome del dispositivo Android nella lista "Devices" con il tasto destro del mouse;
4) Cliccate su "Transfer Android SMS to iPhone " (è possibile anche trasferire gli sms di un solo contatto);
5) Seleziona l'iPhone 5 su cui salvare gli sms;
6) Trasferimento andato a buon fine. Aspettate il riavvio dell'iPhone e troverete i vostri sms nei messaggi!